Waltz!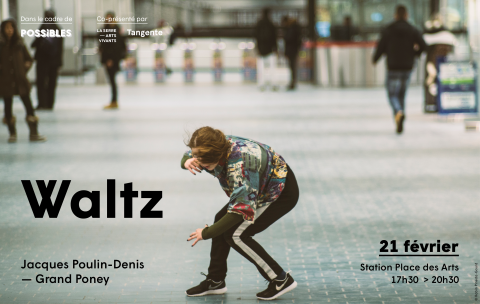 Cyndie Forget-Gravel, Waltz
© Robin Pineda Gould, 2017
Grand Poney wishes to transport you with Waltz, a tribute to mobility devised by Jacques Poulin-Denis. Equipped with fantastic sensors and athletic dancers, an oversized treadmill is perfectly synchronized to the subway trains. The 3 hour in situ installation offers a spin on our transportation culture.
At the Place-des-Arts station – FREE EVENT !
Tuesday February 21, 2017, from 5 to 8 pm.
Co-presented by Tangente and La SERRE – arts vivants for the  POSSIBLES project, as part of the official programming of the 375th anniversary of Montréal. In collaboration with the Ecole de danse contemporaine de Montréal and the Société de transport de Montréal.
Tuesday, February 21, 2017 – 5:30 pm to 8:30 pm.
Place des Arts Station, Montreal.